What is planetary health?
Planetary health is the "health of human civilization and the state of the natural systems on which it depends"
(Whitmee et al., 2015, p. 1978)
In her famous book Notes on Nursing, Florence Nightingale (1860) wrote:
"It is often thought that medicine is the curative process. It is no such thing; medicine is the surgery of functions, as surgery is that of limbs and organs. Neither can do anything but remove obstructions; neither can cure, nature alone cures. Surgery removes the bullet out of the limb, which is an obstruction to cure, but nature heals the wound. So, it is with medicine; the function of an organ becomes obstructed; medicine, so far as we know, assists nature to remove the obstruction, but does nothing more. And what nursing has to do in either case is to put the patient in the best condition for nature to act upon him." (p. 133)
At the heart of nursing is the understanding that when we create the right environment, nature not only can heal itself, but it is an essential partner in human health. Human health and the health of the planet are inseparable.


Background
Planetary Health is an emerging field. It was established in 2015 and the theory and framework are still under development. That coupled with our recognized work in the area of climate mitigation and adaptation, positions the School of Nursing as a thought leader in the field and provides opportunities for new areas of research, teaching, and service. Dr. Teddie Potter was appointed the School of Nursing's first Director of Planetary Health in 2019.
In all areas and all activities, the School of Nursing will work to ensure that nursing is visible and recognized for our profession's historical contributions and alignment with planetary health. Nursing's systems thinking is essential if we are to create the necessary healing opportunities for individuals and the planet.
Videos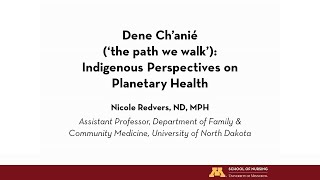 Planetary Health Guest Lecture Mar. 3, 2021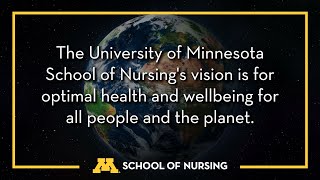 Planetary Health Pledge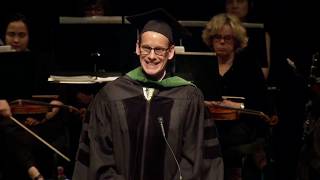 Sam Myers 2019 Commencement Address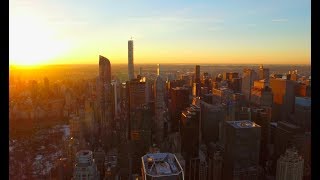 Planetary Health: The Future is Now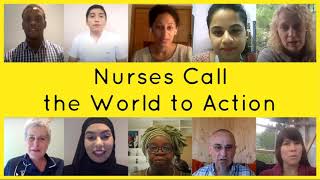 Nurses Drawdown
Cross-Cutting Principles for Planetary Health Education
These 12 cross-cutting principles are envisioned to be a set of core messages that every educator teaching planetary health at any level should strive to impart upon their students.

Climate Change & Health Curriculum
The Climate Change and Health: An Interprofessional Response Curriculum helps learners understand that the connection between climate and health is essential for health professionals of all disciplines.
Going Green
2020 tied for the warmest year on record, matching a previous record from 2016. U of M researchers and alumni are hard at work creating a greener Minnesota. Read more
Indigenous Knowledge Recognition
The Dakota People and the Ojibwe People are the original indigenous people of Minnesota. Their knowledge, traditions, and community life ways make them the planetary health experts for this place. We recognize and honor their knowledge as a necessary requirement for a sustainable and healthy future.
SCHOOL OF NURSING VISION 2020-2025
"To ensure optimal health and wellbeing for all people and the planet."
As evidence points to climate change's impact on health, the school steps up its planetary health efforts
Ethnographic research sheds light on pastoral communities in the Horn of Africa
Assistant Professor Sarah Hoffman has led the nursing component of the IOM project